Charlie's Story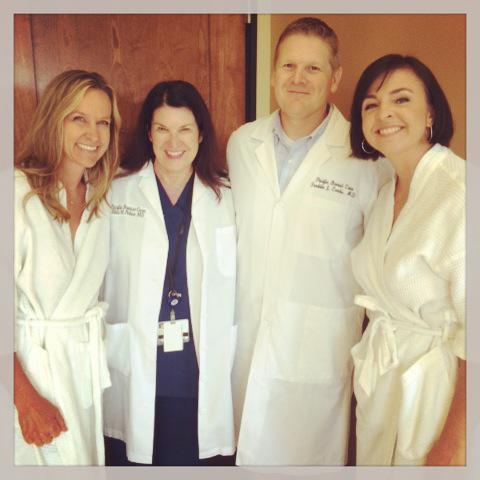 Dear Patients and Friends,
It is with great humility and awe that we share with you the featured speech and video from the CHOC Glass Slipper Guild Gala held May 2nd, 2015. Jackie Hart touched our lives; during her pregnancy, delivery, and postpartum course with Charlie. Please read on to be inspired by a mothers love, a caring family, a team of medical professionals, and CHOC. As obstetricians, we are so grateful to have a hospital that can help our babies not only survive, but thrive.
Thank you Jackie, "This is our Fight Song."
Drs Kroll and Vanblaricom
Charlie's Story- An Overview:
It is such an honor to be standing up here tonight. It is so very humbling to be asked to speak on behalf of the many families that are served every year from our amazing hospital, with stories big and small, knowing ours is just a very small piece of the puzzle.
Our family is forever indebted to CHOC. Our relationship began in 2008 when we were blissfully preparing to welcome our first son into the world. It was a beautiful Sunday in early June, and for some reason, I had this funny feeling that something just wasn't right. After a quick call to my doctor, Dr. Kroll, who is here tonight, she advised me to pop in to Labor and Delivery at Hoag, to make sure all was ok.
I was three weeks from my due date, and while the initial exam turned out ok, an ultrasound discovered that I had zero amniotic fluid in my uterus. A small membrane had grown at the bottom of the baby's bladder and trapped all of the amniotic fluid inside the baby's belly. I was told that we would be induced and quickly called our family to tell them to head to the hospital; the baby was coming! But I had no idea the severity of this and the effect this condition would have on our baby.
Once the neonatologist walked in the room I quickly understood the gravity of our situation. The pressure of the fluid trapped in the baby's belly was doing major damage to his bladder, valves, ureters and kidneys. And since my kidneys were doing the work for the baby in utero, he was surviving. But once born, they were unsure if they would be able to function on his own.
In addition, the amniotic fluid was no longer cycling through the baby's lungs, and without that constant flow, we were to prepare for the very real fact that his lungs may not function properly once born. We needed to get him out immediately and begin medical intervention, and the doctors made it very clear that we were to prepare ourselves for the possibility that, despite all of their efforts, they could not guarantee that our baby would survive.
On June 23, 2008, Charles Ryan Hart was welcomed into the world. He was a beautiful baby, yet his birth was quite a blur. Luckily we were in great hands of OBGYN, Dr. VanBlaricom, along with an army of NICU professionals from HOAG hospital. Once little Charlie arrived, there was quite a bit of action. It took some time to get him breathing, and after a quick kiss, he was whisked away for his first round of emergency medical care. It was overwhelming to have just delivered your first child, and to suddenly find yourself in an empty room, wondering whether or not your baby would survive.
After 24 hours, we overcame obstacle number one. His lungs were functioning, though he was very sick. He was diagnosed with Grade V hydronephsrosis and posterior urethral valves. He had a big fight ahead of him. It was time to put him in the care of the Big Leagues. It was time to go to CHOC.
When we arrived, it was other worldly. The NICU was abuzz with doctors, and nurses, machines, beeps, buzzers, and so many babies being cared for so diligently and efficiently. And that's when we met Dr. Khoury, chief of Pediatric Urology . Up until then, we had heard every worse case scenario situation. Possible dialysis. Valve replacement surgeries. Synthetic Ureters, Transplants by age 2. But when Dr. Khoury sat with us, and looked us in the eye, we suddenly felt like there was a good possibility things could actually turn out to be ok.
Our time there was a complete roller coaster. One minute you are celebrating small victories, the next you are down on your knees praying harder than you've ever prayed in your life. We had so many up and down moments in the hospital, including Charlie's emergency surgery at 4 days old.
The day before he drank from a bottle for the first time. Things were starting to look up. However, that night, there was a problem. The nurse explained that during his middle of the night bottle, Charlie vomited, aspirated, and could not get the fluid down. He wasn't making the progress they had hoped. The doctors decided they need to intervene and he would be going into emergency surgery that morning because, despite all of the ultrasounds and radiology tests, they needed to go in and see the condition of their insides for themselves.
They gave us several possibly scenarios and outcomes, explained the risks, and then we watched them wheel him away. It was overwhelming to completely surrender and relinquish control, and handover a piece of your heart to these doctors and nurses and hope they would work miracles. Yet somehow, you knew they would do everything they could. I remember praying that morning, "just let him live. Just let him live. I can handle ANYTHING if you just let him live".
It turns out Charlie's surgery was the best case scenario. Once they were in they were able to perform the least invasive procedure. A few hours later, out he came to recover. And from that moment things started slowly looking up.
Though his insides were still damaged, two weeks later, Charlie was deemed stable enough to go home. He started as an outpatient a few days a week. Then it became weekly, then monthly.
Charlie has continued to grow strong despite kidneys that functions at ten and seventy percent. At age three, he revisited CHOC for a weeklong stay due to a severe blood infection related to his condition. To present, he continues to visits CHOC regularly for bloodwork, ultrasounds, and the occasional radiology testing. He will be monitored into adulthood, to make sure his kidney function can keep up with his growing body. And when he becomes a full grown, healthy adult, we may able to take our final deep breath and sigh of relief. But until then, we will depend on CHOC to take care of our son.
I am so appreciative to Dr Khoury for his unrelenting, care. He will forever be one of my most favorite people on the planet, and he knows he is our true guardian angel.
Today Charlie is a happy, thriving six year old who loves his family, friends, football and baseball. He is a proud big brother to three year old Will and nine month old Ben. And is the best son we could ever ask for.
CHOC is a teaching hospital. Every time we have ever gone Dr. Khoury is there training and teaching up and coming doctors, and pulls up Charlie's films. If you could see the difference in what his insides looked like at four days old until now you would be amazed. And he has said numerous times that had it been a couple of decades ago, Charlie would not have lived past age two. That's unbelievable.
And that is why it is so important to support our hospital so we can continue to improve, research, and keep it cutting edge to maintain the caliber of doctors and facilities that will make it the BEST. If the last twenty years saved my child's life, imagine what the next twenty can do.
Since Charlie has been born, I have friends in and out of CHOC for small to large reasons. My dear next door neighbor had open heart surgery at just two years old. A coworker's daughter has been Leukemia free for two years after receiving treatment at just one years old. And a dear friend who is with me tonight will be undergoing surgery for her five year old son this upcoming August.
Whether it be your grandchild, your child, a friend, a baby that has not yet come. These are the children that we love. They are our world. And we are their quarterbacks. I know you would do anything for them. My prayer is that you will all be lucky enough to never step inside of CHOC in your life. But life happens. So let's give our children health. Let's give them the care they deserve. The best care possible. This Guild has worked tremendously hard to reach our million dollar pledge. Let's meet it tonight. And then some. Because where would we be without CHOC? And where would we be without our children?
On behalf of all of the children at CHOC, we wish you all happiness and good health and thank you for supporting our children.